January 7, 2020
Posted by:

admin

Categories:

Artificial Intelligence, Blockchain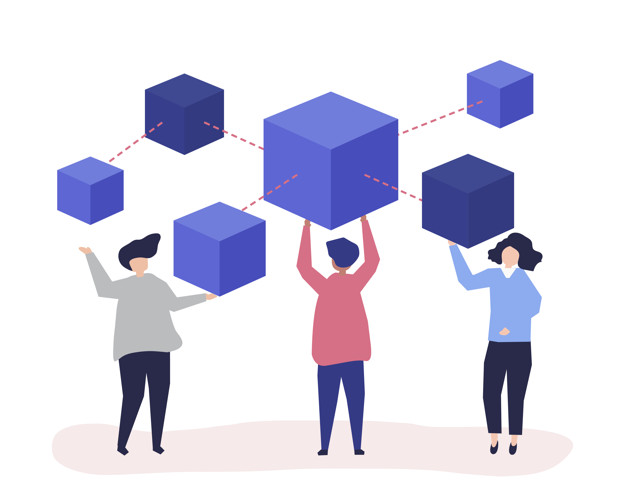 The Fourth Industrial Revolution is all about the way we live and work today and the basic changes that have influenced our lives. The massive technological advancements that have swept across the world today are extremely significant in this context. And that, of course, includes Blockchain and Artificial Intelligence which have had radical effects on businesses and society today.
Scientists are researching ways to leverage the potential in converging technologies like Big Data, AI and Blockchain. This will essentially drive the fourth industrial revolution and offer more efficient and user-friendly technological solutions.
While Artificial Intelligence and Blockchain are very different from each other, a combination of these can lead to greater technological evolutions. Scientists believe that it can open up a world of newer possibilities.
The role of Blockchain in the fourth industrial revolution
The strong cryptographic algorithms that define the Blockchain mechanism is what makes it a highly secure and robust system. Essentially an increasing list of encrypted records contained in blocks, Blockchain can be used beyond cryptocurrencies. Organizations can employ Blockchain to enforce transparency in their business, and boost cooperation. Enterprises that aim to create a permanent record of transactions and undertakings can use Blockchain to their utmost advantage. 
Top healthcare organizations are adopting Blockchain applications to maintain a decentralized record of their patients' history. This way they can boost efficiency in their operations, sort out legal disputes and provide better service with accurate information about individual patients. Blockchain has, therefore, revolutionized the healthcare industry all over the world.
The role of AI in the fourth industrial revolution
AI trends reveal how incredibly fast computers have started to learn and debunk problems as the human mind does. AI concepts like deep learning and deep neural networks add multiple layers of abstraction which improve accuracy and help in delivering precise predictions.
The outcome of merging AI and Blockchain 
Although a fresh concept, Blockchain, and AI will work well in conjunction believe researchers. Top-level enterprises can use to create, organize and maintain colossal databases, increase efficiency in operations and boost security. While they can use AI for scalability and flexibility, Blockchain can be adopted to ensure security. 
Companies can focus on improving various aspects of their business, like –
Supply chain operations –

Using AI and Blockchain, supply chain companies can enforce better transparency and efficiency in their shipments across a wide section of deliverables ranging from timber to seafood. 

Audience analytics –

Business can use modern "proof of engagement" applications to track and improve audience interactions. This will help in offering an enriched customer experience and strengthen brand loyalty.

Smart cities development –

Smart cities are the future and can leverage

Blockchain and Artificial Intelligence

effectively to offer intelligent and highly efficient services such as smart parking, smart lighting, smart heating to the residents.
According to the World Economic Forum, the fourth industrial revolution has already started with a new era of the global economy. The merging of AI and Blockchain is nascent and open to various perspectives too. But harnessing them the right way can lead to the infinite scope of development across industries.