December 4, 2019
Posted by:

Anil Mitra

Category:

Cloud Computing
Migration experience
Various Cloud providers have matured enough and are providing large set of infrastructure/features. These cloud providers have experience helping all types of organizations migrate to the cloud. In last decade with various different types of migration experiences, these providers like AWS, Azure and Google Cloud have created partner ecosystems to help customers, successfully migrate all types of processes and infrastructure to their Cloud, including large-scale migrations of tens of thousands of servers.
Most comprehensive and mature migration solutions
Based on years of migration experience, they have developed the methodology, best practices, tools, and services to help simplify and accelerate migrations.
Faster time to business results
With automation and data-driven guidance, cloud providers like AWS simplifies each step of the migration process, reducing the effort and complexity involved. This helps accelerate large scale migrations broken down in phases by reducing the time to realize the value of cloud migration.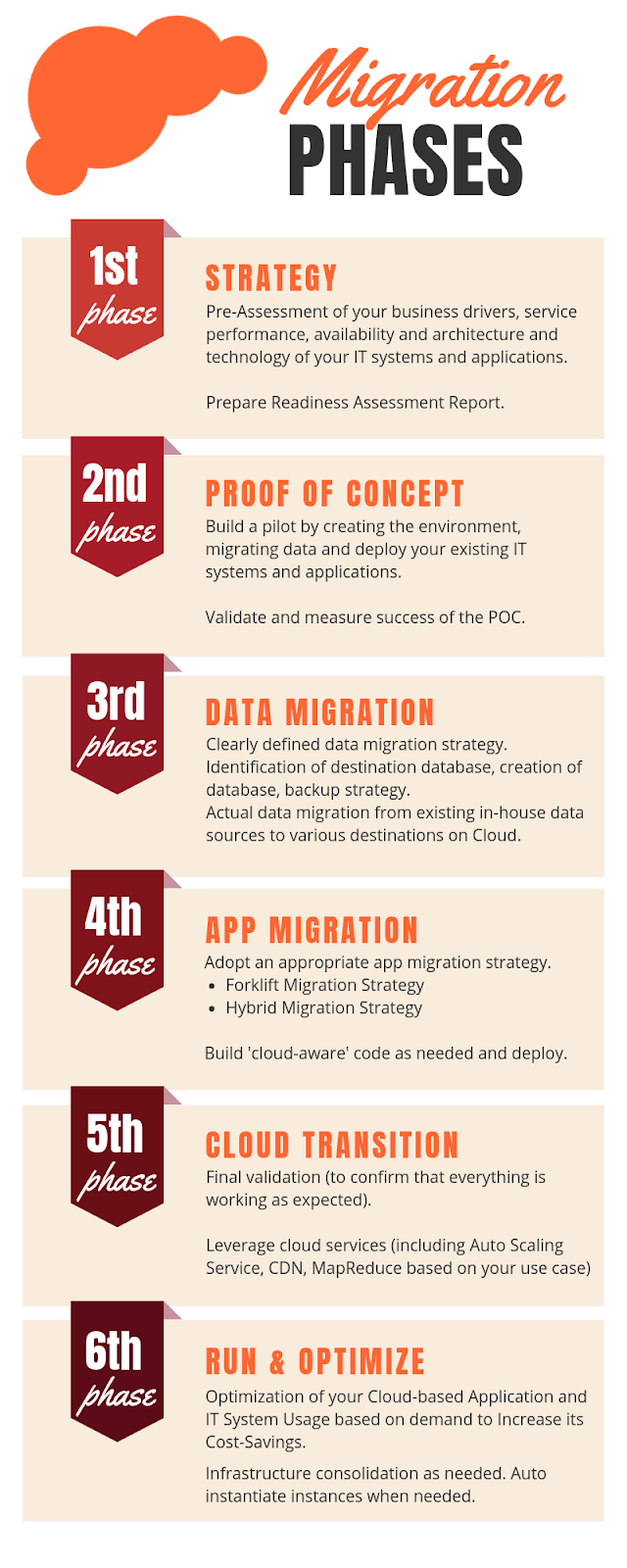 Key points to consider during migration
Some of the key points to consider during migration are related to methodology used, set of tools needed, join acceleration program or hire experienced Cloud Architects. The migration solutions must address the people, process, technology, and financial considerations throughout the migration journey to ensure your project achieves the desired business outcomes.
Migration Methodology
Migrating hundreds or thousands of workloads to the cloud requires a phased approach that includes the following:
assessment
readiness and planning
migrations
operations
Each phase must be built on the previous one with every project moved to operations. All major Cloud Providers prescribe guidance on methods and best practices for all steps of the migration journey.
Migration Acceleration Program
Various acceleration programs are designed by the cloud providers to help organizations committed to a large-scale migration reach their business goals faster by combining all the components of migration solution with investments to assist with the costs of migration.
Managed Services
Managed Services from providers does provide an enterprise-ready operating environment to migrate production workloads in days versus months. To meet security and compliance requirements, these managed services teams will often makes only necessary modifications to your applications. Post migration, the managed services takes responsibility for operating your cloud environment.
Professional Services
Cloud Professional Services helps you automate and accelerate the migration of large numbers of workloads to the AWS/Azure/Google Cloud. They bring methodologies, tools, and experts to work together with your team to help you complete your migration journey faster and more reliably.
Competency Partners
Cloud Migration Competency Partners help you complete your migration faster. You can look for such partners listed by each Cloud Provider. Sometimes your account manager will connect you to these Competency Partners.
Training and Certification
Cloud Providers' Training and Certification cells can design a training strategy to help your organization build the right cloud skills. With a comprehensively trained staff, your organization can achieve up to 80% faster cloud adoption.
Why migrate?
Free-up IT resources
Improve efficiency by freeing up valuable financial and staff resources. With Pay-as-you-go model, you do not spend on CapEx, rather you focus on your business and invest in OpEx as needed.
Reduce business risks
Reduce risks to your business and operations by moving to a more resilient and secure IT environment.
Increase speed & agility
See immediate gains in speed and agility when you migrate to Cloud – and these benefits keep growing as your resources are freed-up to focus on modernizing your business.